Teledyne e2v delivers CCD sensors for the Large Synoptic Survey Telescope (LSST)
helmsford, UK, December 11 2018 —Teledyne e2v, a Teledyne Technologies [NYSE: TDY] company, has completed a multi-million dollar project by delivering hundreds of CCD250 sensors for one of the world's most powerful survey telescopes: the Large Synoptic Survey Telescope (LSST). Identified as a US national scientific priority by the 2010 USA National Research Council decadal survey, LSST will carry out a 10-year survey of 37 billion stars and galaxies to produce a giant database of the sky.
Equipped with the greatest data capture capability, the LSST incorporates the largest digital camera ever built for ground-based astronomy. When commissioned in 2021, it will be one of the world's most powerful astronomical survey telescopes. The camera, using 4096 by 4004 pixel format CCD sensors, has the ability to capture 3.2 gigapixels of image data and produce 1000 images every night.
Teledyne e2v's CCD sensors have been uniquely designed and manufactured to achieve the performance and delivery time required for this project. The 16 megapixel sensors have been manufactured in a custom 4-side butting precision package that enables a closely packed mosaic assembly providing a high fill factor.
As the camera requires an extremely flat focal surface, Teledyne e2v has designed each of the individual sensors to achieve a surface flatness precision that is one-twentieth of the width of a human hair. The sensors deliver high sensitivity over a wide wavelength range. Spectral response ranges from UV to NIR at an enhanced infrared sensitivity of 80% QE at 900 nm. The sensors have 16 output channels that enable 2-second readout with low read-noise, allowing for a high rate of high-resolution image collection.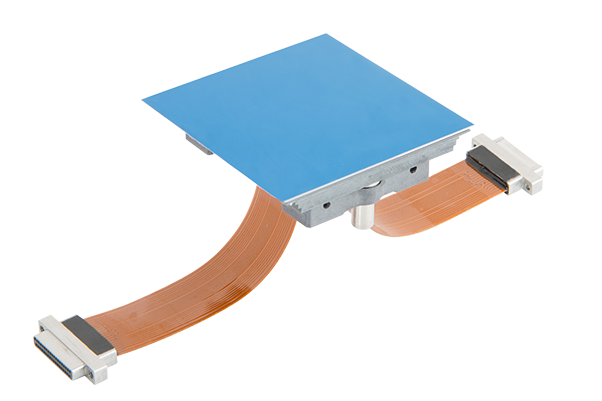 CCD250 Image Sensor for Large Synoptic Survey Telescope (LSST)
Dr. Paul Jorden, Astronomy product specialist at Teledyne e2v, said, "We are thrilled to have partnered with SLAC National Accelerator Laboratory in the USA to deliver what are among the world's most powerful image sensors, tuned to a level of performance and exacting standards we are so pleased to have achieved. We anticipate superb results of this very important ground-based astronomy system."
According to Steve Kahn, LSST Director, "During its ten-year survey, LSST will capture images of billions of never-before-seen astronomical objects, generating unprecedented amounts of data and helping to answer some of the universe's biggest questions. The benefits produced by LSST will extend far beyond the astronomy community."
Employing the most sensitive and highest precision collection of sensors in its camera, LSST seeks to answer fundamental astronomy questions about dark matter, dark energy, near-Earth asteroids, transient optical objects (such as supernovae), and the formation of our Milky Way galaxy.
About Teledyne e2v
Teledyne e2v's innovations lead developments in healthcare, life sciences, space, transportation, defense and security, and industrial markets.
Teledyne e2v's unique approach involves listening to the market and application challenges of customers and partnering with them to provide innovative standard, semi-custom or fully-custom imaging solutions, bringing increased value to their systems.
In combination with its sister companies, Teledyne DALSA and Teledyne Imaging Sensors, three imaging powerhouses, together represent a new paradigm in the delivery of innovative imaging solutions built on unrivalled expertise and a deep technological heritage that includes capabilities across the spectrum, from infrared to x-ray imaging.
About Teledyne Imaging
Teledyne Imaging is a group of leading-edge technology companies aligned within the Teledyne brand. With unrivalled expertise across the electromagnetic spectrum and decades of experience, the group offers world-leading capabilities in sensing, signal generation and processing. The collective delivers innovative solutions to aerospace, defense, geospatial, machine and industrial vision, medical and life sciences, semiconductors and MEMs.
About LSST
LSST's mission is to build a well-understood system that provides a vast astronomical data set for unprecedented discovery of the deep and dynamic universe. LSST seeks to enable science in four main areas: understanding dark matter and dark energy, cataloging the solar system, exploring the changing sky, and investigating the formation and structure of the Milky Way. LSST is scheduled to begin operations in 2022. More information can be found at www.lsst.org
Financial support for LSST comes from the National Science Foundation (NSF) through Cooperative Agreement No. 1258333, the Department of Energy (DOE) Office of Science under Contract No. DE-AC02-76SF00515, and private funding raised by the LSST Corporation. The NSF-funded LSST Project Office for construction was established as an operating center under management of the Association of Universities for Research in Astronomy (AURA). The DOE-funded effort to build the LSST camera is managed by the SLAC National Accelerator Laboratory (SLAC).
The National Science Foundation (NSF) is an independent federal agency created by Congress in 1950 to promote the progress of science. NSF supports basic research and people to create knowledge that transforms the future.
All trademarks are registered by their respective companies.
Teledyne reserves the right to make changes at any time without notice.
Media Contact:
Mark Bown
Teledyne e2v
01245 493 493
email: mark.bown@teledyne.com
Sales Contact:
email: webleads@e2v.com